A funny thing happened on Sunday while we were driving home from church. The phone rang with an unknown number and Tiffany dutifully answered it. A kind voice on the other end of the line asked if they could come out and pick peaches. They explained that they were from the metroplex area and were looking to make a day of it by driving all the way out to Stephenville.
As most of you know, a surprise hail storm wiped out our crop this year. Any peaches that weren't knocked off we went ahead and picked off to let the trees rest from their labors and simply recover from the damage that was done.
Tiffany explained this to the kind voice on the other end of the phone before saying their goodbyes and hanging up with a little smile on her face. Who would have guessed that little things like this would be such an encouragement to us throughout this year. There's a deep goodness to know that there are other people out there who are eagerly awaiting the fruit of your years long labor.
It was the day following this phone call that I found myself again working in the orchard repairing some irrigation lines. We have driven up and down these rows of trees so many times in the last couple months, inspecting them and urging them to get better, so I can tell you that I'm quite certain there are no more peaches left in the orchard. Today however as I walked up to tree 1×1 (row #1, tree #1) which is the very first tree in the orchard as you pull in, that I stopped dead in my tracks and then let out an excited shout and literally jumped up in the air. There was a peach in that tree, and it was perfectly ripe.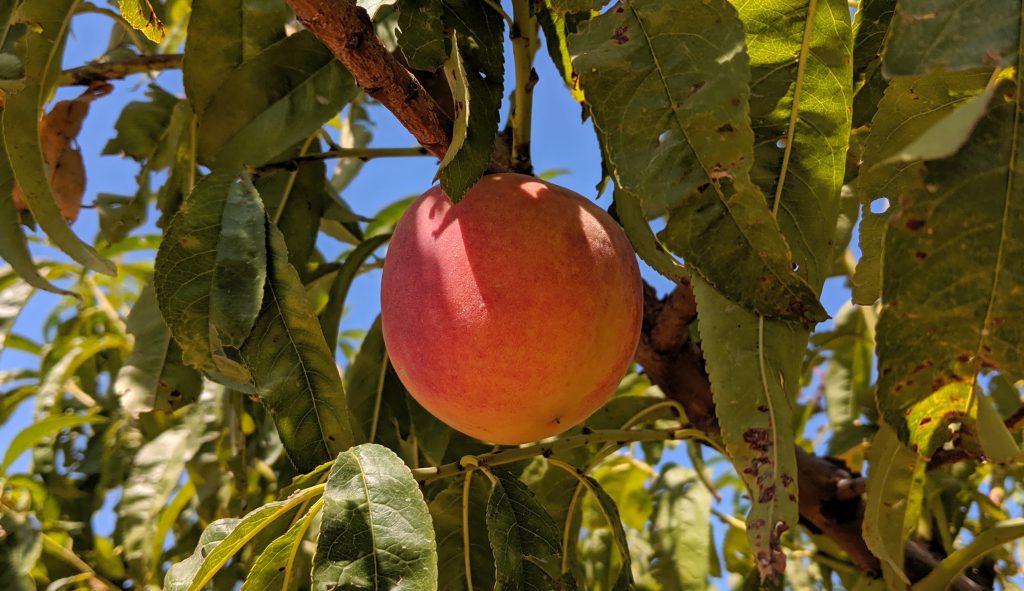 Somehow this little jewel had gone hidden and unnoticed all this time despite being on the very first tree in the orchard. How we should drive past it over and over again as it slowly ripened I will never know. Perhaps God was keeping it safe because He knew how much it would mean to me to find it. My friends, what joy!
And so I am here to dutifully declare for any and all who might wonder or call – the last peach of summer 2019 in The Orchard, has been picked. We look forward to what God has in store for your family and ours next year!